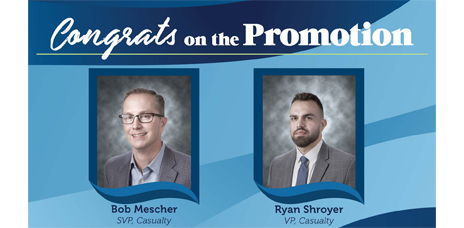 Admiral Insurance Group Names Bob Mescher Senior Vice President, Casualty and Ryan Shroyer Vice President, Casualty
Admiral Insurance Group, a Berkley Company, today announced the promotion of Bob Mescher to Senior Vice President, Casualty, after leading the Mount Laurel Casualty team since 2015. Ryan Shroyer has been promoted to Vice President, Casualty, filling Mescher's previous role in Mount Laurel.
Mr. Mescher joined the Casualty team at Admiral Insurance Group in 2009, following 14 years at a global reinsurer. He entered the insurance industry training in commercial lines at a leading U.S. property and casualty insurer and has spent his career in insurance underwriting complex Casualty accounts in both the traditional and alternative insurance marketplace.
Mr. Shroyer joined Admiral Insurance Group in 2015 and was a pioneer in the internship program piloted in Mount Laurel. A graduate of Temple University, Mr. Shroyer spent time with the Admiral Insurance Group Property, Casualty, and Professional teams before joining the Casualty team full time.
##
About Admiral Insurance
Admiral Insurance Group, a Berkley Company, provides excess and surplus lines coverage for commercial risks that generally consist of hard-to-place, specialized risks involving moderate to high degrees of hazard, exclusively through wholesale brokers.
Admiral Insurance Group writes on behalf of Berkley member insurance companies, which are rated A+ (Superior) Financial Size Category XV by A.M. Best Company.
For more information about Admiral Insurance Group or to locate a wholesale broker, please visit www.admiralins.com/wholesale-brokers/