Admiral brokers now have exclusive access to additional lines of business when the Casualty coverage is bound with Admiral. Berkley Connect can provide a comprehensive solution for cannabis risks. One application, one submission, and one family of insurance companies to provide solutions to the cannabis industry.
The Comprehensive Cannabis Program connects you with the expertise of the Berkley companies through a single point of contact, ensuring that you and your clients have a uniform and consistent experience. All products provided are written on A.M. Best rated A+ XV paper giving your clients the confidence they need and deserve from their insurance providers.
Through Berkley Connect, Admiral brokers can now gain access to a breadth of coverages tailored to the needs of the cannabis industry, including:
When obtaining a quote for the Admiral CGL, Admiral brokers are able to request quotes for additional lines of coverage.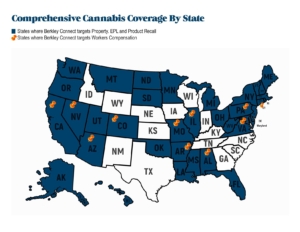 View the FAQs on our Comprehensive Cannabis Program.
*Additional coverages are only available when bound with the Admiral CGL policy. Quotes for each line of business are subject to the underwriting guidelines applicable to that line and a CGL quote does not guarantee a quote for other lines.